Simply Archive Capacities
A new function called "Capacity Archive" now enables site operators to archive capacities, ramp groups and locations that are no longer used. With the archiving, capacities including bookings are no longer visible or accessible in the operative area as well as in the configuration area. The data in the archive is not deleted and can be removed from the archive and edited at any time as required or for evaluation purposes.
In order to add a capacity to the archive, the CargoMarket Admin must set and save a check in the checkbox "Archived" in the administrative area under "My Cargoclix – Timeslot – Ramps – Select ramp/ramp group/location". In order to see the already archived units, the admin can set a tick in the checkbox "Include archived" in the action bar. This will show the archived units in the structure of the CargoMarket with red marking.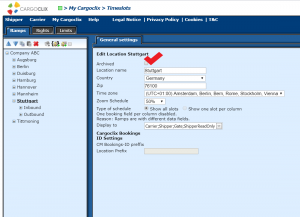 *Cargoclix SLOT. Timeslot and Yard management
Cargoclix SLOT optimizes processes and personnel deployment at the ramp. It prevents waiting times and workload peaks at loading and unloading points. Our Timeslot management system provides also transparency for all pictured logistics processes. Therefore it is the best solution for industry, trade, logistics service providers and transport companies.