Cargoclix Enables Adaptation of the First Day of the Week
No matter whether Sunday or Monday: From now on every Cargoclix user can define for himself which day of the week appears first in the calendars. The calendars are available for date selection in the Schedule, under the tab "Bookings" and in the limit settings. Until now the first day of the week was determined by selecting the language of the user interface – Monday for German, Sunday for English. This is now in the past.
To set the selection, first select the area Master data under "My Cargoclix" and activate editing in the field "Personal data". Now each user can select the desired option in a drop-down menu under "First day of the week" and set the first day of the week.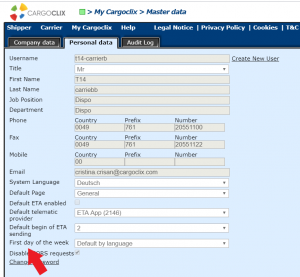 *Cargoclix SLOT. Timeslot and Yard management
Cargoclix SLOT optimizes processes and personnel deployment at the ramp. It prevents waiting times and workload peaks at loading and unloading points. Our Timeslot management system provides also transparency for all pictured logistics processes. Therefore it is the best solution for industry, trade, logistics service providers and transport companies.