Possible Settings for the Comment Fields
The standard fields "Comment" and "Shipper comment" can now be adjusted for each ramp in terms of visibility and editability. The CargoMarket Admin can define which user roles can enter or view comments. More transparency is created and the user roles that previously had no access to the comment fields, can now edit them. Example: The role "Gate" can be allowed to enter internal comments or leave comments to the booking company. But it also works the other way around: the comments can be deactivated for all roles. 
The CargoMarket Admin can configure the fields here: 
My Cargoclix > Time Slot > Ramps > [Select Ramp ]> Booking Data > [Open Settings of the booking field via link "Add"] > then check the boxes for each role by "visible for" and "editable for''.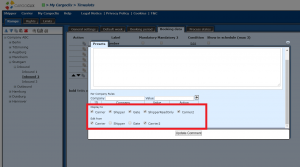 *Cargoclix SLOT. Timeslot and Yard management
Cargoclix SLOT optimizes processes and personnel deployment at the ramp. It prevents waiting times and workload peaks at loading and unloading points. Our Timeslot management system provides also transparency for all pictured logistics processes. Therefore it is the best solution for industry, trade, logistics service providers and transport companies.